.
질소가스농축기(24홀), N2 Gas Evaporator, NDK200-2N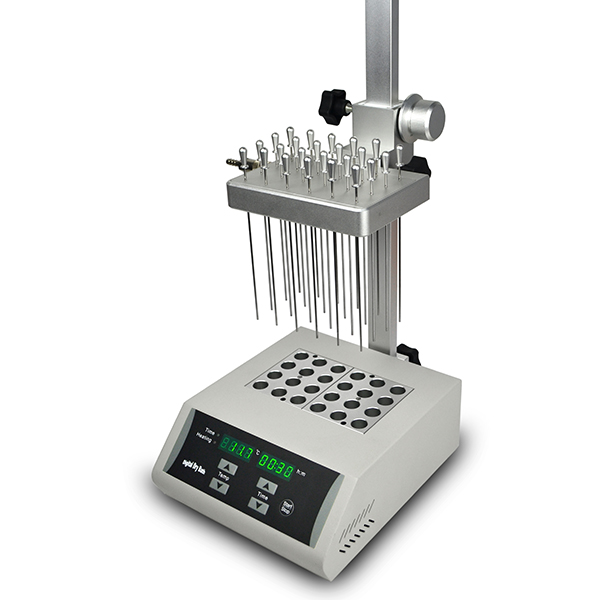 The nitrogen sample concentrator NDK200-1N
(1block)
/ NDK200-2N
(2blocks)
/ YT-12(
Water
bath)
is mainly used for enrichment of large-volume sample or preparation (such as drug
screening, hormone analysis,
liquid phase, and mass spectrometry in the analysis of sample
preparation). Working principle: the nitrogen into the
heated surface of the sample and make the
solvent to evaporate and separated rapidly, thereby reaching the sample
enrichment purpose without oxygen, keep the sample purer. Nitrogen concentrator instrument can concentrated dozens
of samples simultaneously, saving time and high efficient, instead of rotary evaporation instrument.
Product
features
u
Synchronously working with heating by dry bath in
the bottom and nitrogen blowing on the surface accelerates liquid
evaporation and sample concentration.
u
The position of gas needle in air cavity can be adjusted
to suit for different types of tubes.
u
The height of the air cavity can be adjusted. The length of a standard gas
needle is 150mm
(YT-12 : 200mm) (슬라이딩 조절기로 가스 니들높이 조절 가능
NDK Series)
u
Gas needle is controlled independently. Separately blow of each needle
and flow regulating of each needle are available to avoid gas waste
(NDK200-1N:
2~12 needles / YT-12:
12 needles) (가스밸브 on/off 개별컨트롤)
u
The entire equipment can be put into ventilation cabinet when the
concentration sample in toxic solvents.
u
Built in overheat protection, automatic fault detection and fault beep alarm devices.
u
LED display immediate temperature and diminishing time. Operation is simple and
convenient.
u
Standard configured air cavity and adjustable bracket. Optional blocks
u
수위센서, 알람 시스템, 유량계장착, 1~50ml, 100mm 니들길이(YT-12)
u
원형
회전판구조 360도 회전가능, 홀에 번호 기록됨, 가스유량 제어가능 : YT-12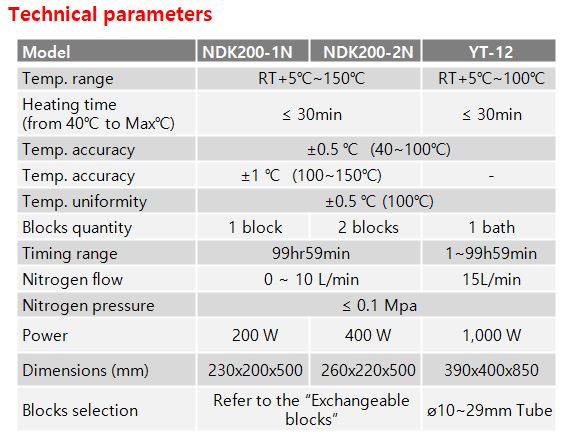 Exchangeable blocks